What are the three pillars of social innovation?
0
About Author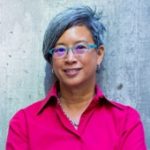 Author & former USAID Chief Innovation Officer
Ann Mei Chang is a leading expert on social innovation the author of Lean Impact: How to Innovate for Radically Greater Social Good (Wiley, Oct 2018). Previously, she served as the Chief Innovation Officer at both USAID and Mercy Corps. Prior to her pivot to social good, Ann Mei was a seasoned Silicon Valley executive, with more than 20 years' experience at such leading companies as Google, Apple, and Intuit, as well as a number of startups.
Interviewed By