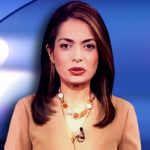 Sarder TV Anchor & Seasoned Reporter, FOX Business
Karina Mitchell is a seasoned reporter covering business, national, political and entertainment news. She joined FOX Business Network covering markets and financial news in January 2019.
Before joining FBN, Mitchell served as a business anchor and correspondent for CBS News based in New York, reporting financial and original business and consumer stories for 230 plus CBS affiliates, radio and digital platforms nationwide. She also produced breaking and national stories for the network. Alongside her work at CBS and FBN, she also serves as a business anchor for NY1 based in New York and for its affiliates across the country.
She provides multiple live markets updates and analysis, as well as anchoring local news of relevance to New Yorkers. Prior to that Mitchell covered entertainment and general news at CBS and anchoring/reporting at WKYC, the NBC affiliate in Cleveland.
Mitchell got her start in front of the camera as a general assignment reporter with News 12 in New York. Mitchell was married and widowed, then re-married. Her husband is the well known and much lauded journalist and anchor, Russ Mitchell. She has three children and is extremely proud of her South Asian heritage.
Nothing Found!
Apologies, but no results were found for the requested archive. Perhaps searching will help find a related post.